personal gaming space
reimagined.
SAFEBET
blends continuous air disinfection and viral mitigation with an enhanced, premium gaming space. Encircled by touches of luxury and our patent-pending UVC BREATHING ZONE
TM
feature, SAFEBET delivers a VIP-level experience emphasizing permanence, protection and peace of mind.
see how safebetTM protects gamers in three smart ways.
SAFETY BY DESIGN
Permanence and Protection, Perfected for the Gaming Floor.
SAFEBETTM solves human safety challenges through advanced engineering and enhanced aesthetics that improve the casino guest experience, while maximizing space on the gaming floor.
1.

FLEXIBLE & FIXED PARTITION WALLS.
Inspire customer confidence through cased partition walls that provide a sense of permanence. Fully customizable finishes and graphics.
2.

BREATHING ZONETM FILTRATION DEVICE.
The UVC BREATHING ZONETM feature is housed seamlessly at every seat, highlighted by LED lighting. Designed with accessible panel for ease of maintenance/replacement.
3.

PARTITION FINS.
Lightweight and easily movable interior cased partition fins provide guest privacy while optimizing flexibility in slot configuration.
4.

COMFORTABLE SIZING.
Ergonomically designed, the 36"+ spacing delivers optimum separation and ease of accessibility, while enabling the casino guest to be "in the action".
5.

HIGH PROFILE OPPORTUNITIES.
The high-visibility of SAFEBETTM draws attention to your casino's commitment to health-conscious technology and a superior guest experience. Endcaps also provide high-visibility real estate for promotional displays.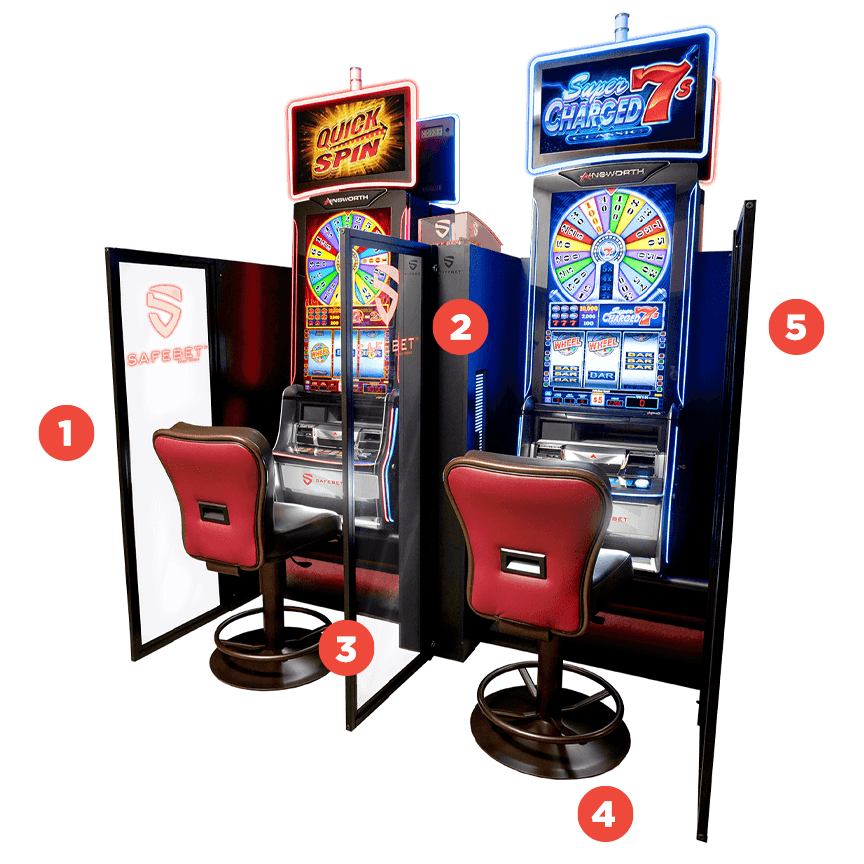 PROTECTION ZONE
Indoor Air Challenges, Solved.
Making casino gaming safe goes together with enhancing the customer experience. The optional SAFEBETTM VIRTUAL ROOF adds an additional layer of protection via upper air disinfection and virus eradication. The addition of our specially designed Tech Tube with integrated UVC fixture creates a horizontal plane of enhanced health and safety for gamers in the SAFEBETTM space and beyond. Equipped with custom louvers, the VIRTUAL ROOF focuses virus elimination directly over the slot area covering up to 24 linear feet into the aisles. This superior level of air sanitization kills viruses, bacteria, fungus and mold while reducing airborne infectious disease transmission by 99.99%.Custom designed louvers also protect guests from exposure to ultra-violet light.

BREATHE EASY
Air Filtration & Virus Mitigation
The integrated UVC BREATHING ZONETM feature is a patent-pending, self-contained, and fully shielded UVC filtration system proven to reduce virus transmission by actively disinfecting and inactivating potentially infectious organisms in the air. Personalized ventilation is key to SAFEBET's strategy of supplying disinfected, pathogen-free air directly to the guest's breathing area. Born in healthcare, UVC filtration sanitizes air that is passed directly in its path, killing viruses, bacteria, fungus and mold while reducing airborne infectious disease transmission.
 
The result? Your guests breathe clean, sanitized and pathogen-free air supplied directly to their personal, protected space.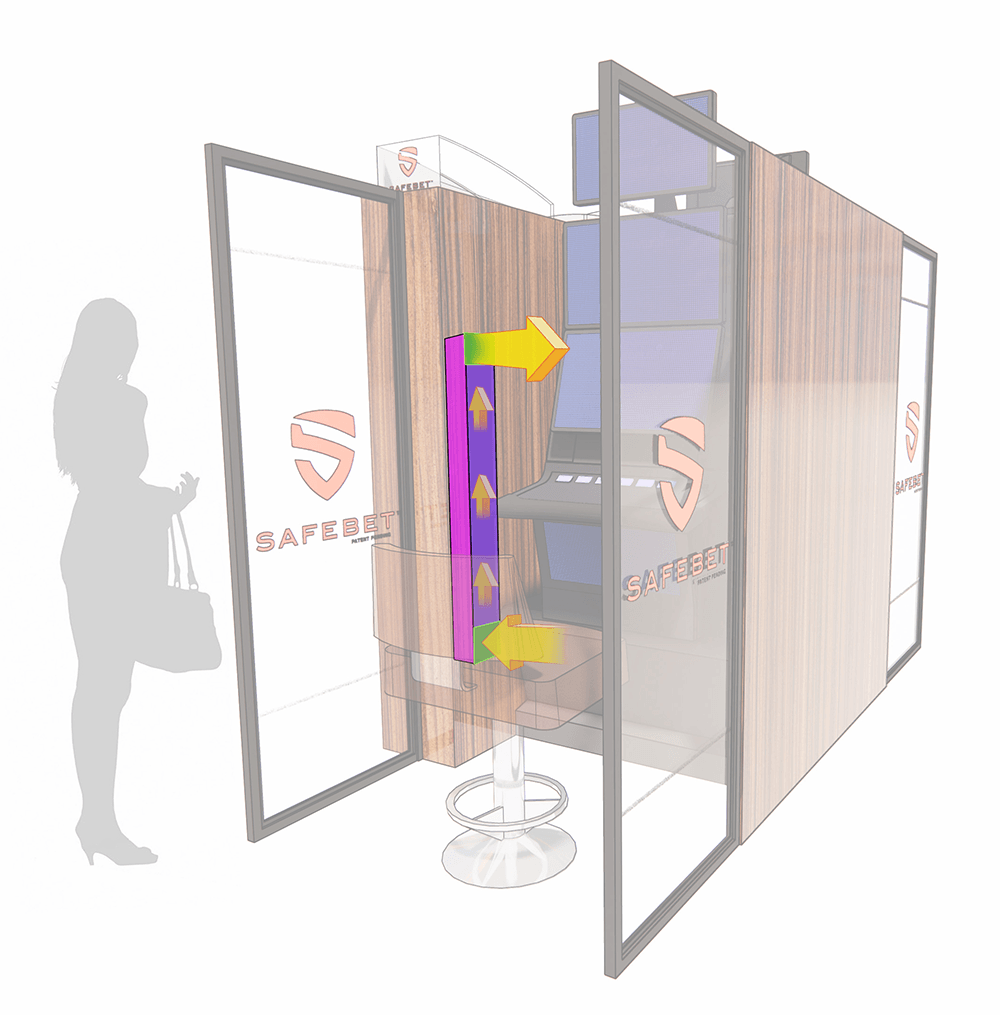 the results
Pure and simple, the economic engine of a casino is your gaming floor. SAFEBETTM targets the epicenter of the casino to deliver optimum safety, person-to-person separation and an enhanced, protected guest experience while promoting the feeling of being immersed and engaged in the energy of the casino floor.

Why do you need SAFEBET in your casino?
If you want to deliver your guests the best in viral protection and personal health safety while also creating an elevated VIP experience, you offer them SAFEBETTM. The result: happy, comfortable, and confident guests; a more attractive and efficient, protected gaming floor; and a market differentiator demonstrating your property's commitment to safety and quality.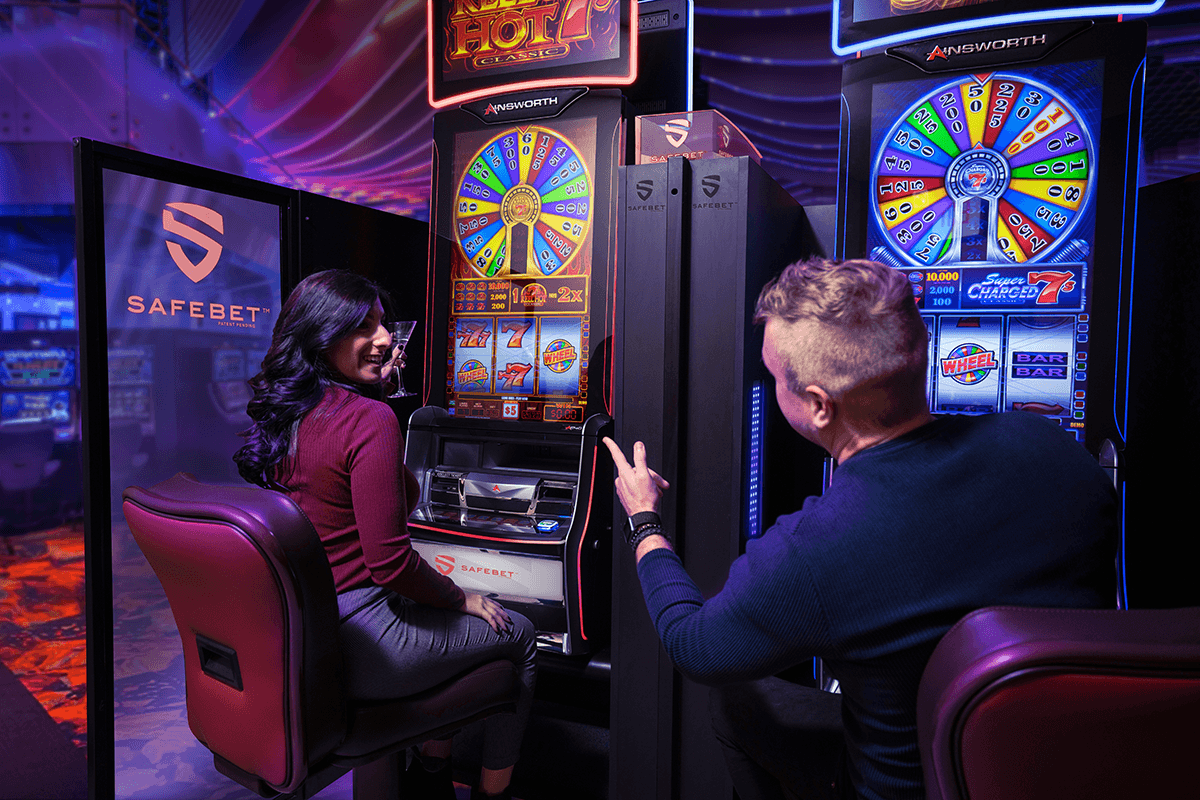 turn survival into revival
"I think a key differentiator of SAFEBETTM as a COVID product is that it's not what you typically think of first. My mind goes to jumbo-size hand sanitizer pumps, face masks, washing hands….more in the PPE realm. When I think of SAFEBETTM, it represents a design enhancement that solves customer safety challenges, but you honestly can't even tell it's a COVID product. That's part of the beauty and ingenuity of it."

- Rick Gardner, CEO HBG Design
"From a health standpoint, it's almost a luxury super box."
– Global Gaming Business Magazine
SAFEBETTM was designed in response to the COVID-19 pandemic, but built for the future beyond it. "The advancements look so creative they may also help the country leave the COVID-19 era."
– Global Gaming Business Magazine
"The safety measures enable people to play, but the concept can also be used for exclusivity, especially for high-limit games. Any operator able to manage this may turn survival into revival."
– Global Gaming Business Magazine